Oh yes: marinading the steak was JUST THE THING. Much more tender and juicy and delicious. Om nom!
In other news: the shrimp may be finally getting used to the (remaining) cichlid. I found a number of them grazing this evening.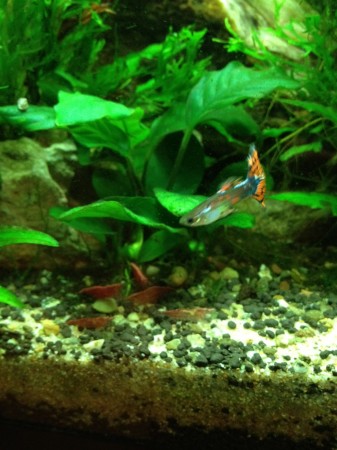 And a guppy, for good measure. That's one of the best guppy pictures so far, though you still can't see the splendiferous beauty of his tail.
In other other news: I learned all about leaky underground heating-oil storage tanks and sewer scopes today. Fascinating. No, I'm serious: I love this kind of stuff. Then I went and looked at a few fixer-uppers. I love them better than the all-fixed-up ones: I love the potential, the diamond in the rough quality. I love the bargains. I wish I could afford to invest and fix up…but it will be fun helping others to do so.
And that's the news.