So yesterday snow; today sun and loveliness. Must be spring!
I had a schedule malfunction (not my fault) and ended up without time to go to the gym–or, rather, without time to go before everyone got off work and crowded the pool all up. So I drove back home after my errands, gym bag unused, cranky and unexercised…and realized, Hey, what a gorgeous day, I'll go work in the yard!
I dug and shoveled and wheelbarrowed and uprooted and pruned and hauled and…two hours later, I was well and truly exercised. And the yard looks better all the time.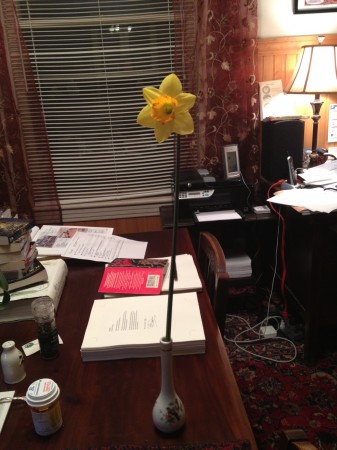 A large branch had fallen off a bush (maybe from the snow?) and lopped this poor daffodil off at its base, so it gets to come inside and be on the dining room table.
______________
Tomorrow I head briefly up to Seattle, for Mark Bourne's celebration of life; Sunday, quickly-quickly back to Portland, to sit an open house. I hope this weather holds! A non-rainy driving experience up and back would be most welcome.