So…I know it's not even 8pm, but, given the miles traveled, and the fact that we're in and have our shoes off and no more plans to go outside, I think it's safe to say that there was no chaos or drama today.
We had a lovely Father's Day breakfast at our first-choice restaurant; got checked out of our cabins (though my folks did forget their pillows…so, okay, minor drama), did a bit of shopping, and got to the ferry in plenty of time; no car troubles; made it to Seattle in a timely fashion; and now my folks are off for the rest of their PNW vacation (more friends, and then down the Olympic Peninsula).
I guess I did kinda sorta buy another rug.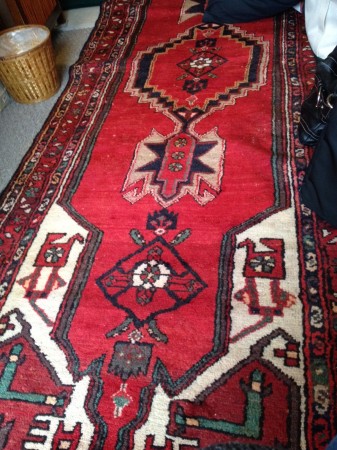 But that's not a bad thing. That's entirely a good thing. Rugs are a goodness. And rugs from Orcas Island are an even better goodness. And this one is gorgeous. Well they're all gorgeous. And it was VERY affordable. Okay I'll stop now.
It's nice to have easy internet again. You have no idea how heroic it was that I managed to post those last few updates. You're welcome.