Miss Q and I drove back to the Nest today with no incident or drama whatsoever. I know, we were a little disappointed too. (Not really.)
Yesterday's party was fun–got to see lots of friends I rarely see, and experience toasted doughnuts: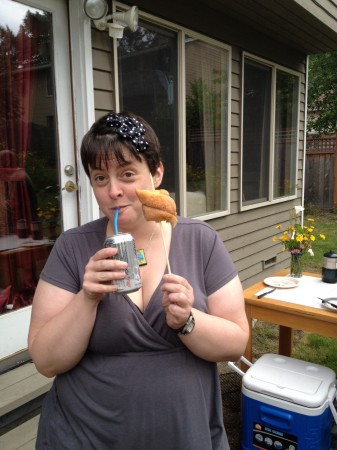 Miki Garrison, preparing to toast a portion of doughnut, alongside the marshmallows over the coals
And this afternoon, after we got home, I lost myself in the garden for a few hours…and when I was almost done, the coolest thing happened: a hummingbird came and fed from the crocosmia right by me; I froze and watched him. He got closer and closer to me; I could have reached out and touched him, without even extending my arm all the way. I watched his sinowy muscly greenly-shimmering little body and marveled…then he finished feeding, and turned and faced me, and came even closer…we stared into each other's eyes, and I thought, What a sharp little beak; maybe I flinched a little, because then he decided I wasn't another flower, and casually flew away.