Thing the First: We went to RadCon last weekend and it was very good. (I feel I should reassure you all of that, since I was so down on OryCon!) Our panels were interesting and well-attended (well, except for the one scheduled opposite the Masquerade; that one was still interesting, even if it was just us panelists talking with each other and our one audience member). My reading was well-attended–I read from the new secret project, which I will tell the world about soon! And 10 of the 13 prints we put up in the art show sold–two even went to auction, which is awesome.
Also, we stayed in "the Westie," the overflow hotel, and loved it MUCH better than the Red Lion. Because we're old. And we like to go to bed early, in a quiet place. And the breakfast was GREAT, and free.
So, yay RadCon!
Thing the Second: I've updated my website, check it out!! Yes, it feels a little weird to link to my website FROM my website, but many of you read this on LifeJournal, and this is for you. 🙂 Feedback welcome! I've put book-buying links much more prominently on the landing page, AND a form to fill out for subscribing to my mailing list.
Because Thing the Third: I'm starting a mailing list! I will have things to announce soon, including the secret project, and the other project which is less secret but that I haven't really talked about yet. Sign up! I promise not to spam you overmuch. I will probably hardly send any more newsletters than I make blog posts, and you know that's not very often.
The Rest of the Things All Together: Just a jumble of work, really. LOTS and LOTS of freelance work (which, I repeat forever, is awesome). And I've actually got four books on my plate–Queen & Tower (am gathering beta-reader feedback on that, ready to delve into final edits next week or so); the sequel to Our Lady (50K words drafted during NaNoWriMo, set aside to work on all the other things); and then the thing and the other thing that I will tell you about very soon.
Plus life: I'm holding the household together, because Mark is working like a maniac on Thimbleweed Park; and I'm doing actually surprisingly well at maintaining a daily yoga practice; and I'm not keeping in touch with friends and family like I should; and the garden isn't taking any time because it's winter, but that's about to change, things are sprouting up all over…yay?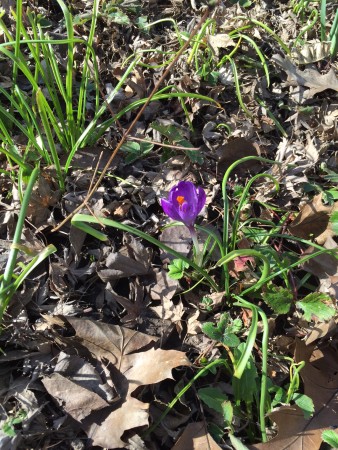 (photo from a week or two ago…more lovelies coming up all the time!)
And that's about it from here. Okay, back to work.